A global success story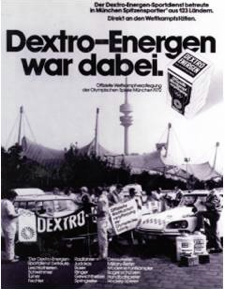 The brand's history begins in 1927 with the introduction of Dextrose powder "dextrose Purum". In 1929 the nutritive sugar is called Dextropur", which it still bears today. In 1935, a compressed tablet of this dextrose powder is introduced in a cube form under the brand "Dextro Energen". At the Olympic Games in Berlin in 1936 and Munich in 1972, this classic is the official competition catering for the athletes. New product offerings like bars (1992), Minis (1995) and Mintz (2012) as well as a sports nutrition supplement range complete the product range over the following years. In 2002 Dextro Energy is renamed in the currently valid trademark Dextro Energy. Dextro Energy is used to increase the performance in work and sport.
Innovations to strengthen the leadership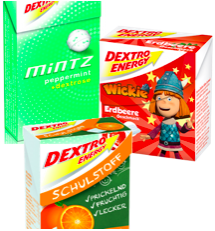 The successful concept of Dextro Energy is "Growth through Innovation". Therefore Dextro Energy relies on the steady development and advancement of innovative products and ideas. The activating oral refresher "Mintz" for example, combines energizing dextrose with the freshness of mint in a unique ball shape. The introduction of child formats such as "Dextrosio Famosia" to expand the target group, the launch of the "Schulstoff" range in two delicious varieties or even the latest license "Vicky", are the evidence of the innovation power of Dextro Energy.
New communication strategy
In 2014, Dextro Energy, the number one in the German dextrose market, sets new accents in the strategy: the brand remembers on its functional strengths and focuses on the topics of energy for the "brain" and "sports" and sets it with a new communication and a clear communication goal to: "Dextro Energy is the fastest source of energy."